There is quite a few do-it-yourself bathtub refinishing kits out on the market.  The ones found at home improvement stores seem to have the worst adhesion properties and we are constantly stripping bathtubs that have been refinished with these coatings by home-owners.
Many homeowners choose to refinish their hard to clean bathtubs instead of removing the tub due to destroying the tile surrounding the bathtub.
When it comes to bathtub refinishing products, what is even more important than the quality of the product itself is the preparation of the bathtub.
The tub must be thoroughly cleaned and all oils, soap scum and silicone must be removed if the product is to have a chance at adhering.  DIY bathtub refinishing kits do have the ability to produce a good final result if the bathtub surfaces are de-contaminated and the kit instructions are followed.
One thing to keep in mind is that bathtub refinishing products release dangerous fumes, meaning proper ventilation and an organic vapor respirator are necessary.  Other personal protection must be used as well including safety glasses and chemically resistant gloves.
This kit works great on fiberglass tubs as well.  Just sand the fiberglass (rough it up a bit/remove the shine) with 120 grit sandpaper and remove all of the dust.
You may also use these kits to reglaze your tile, just follow the instructions and read the "how to refinish a bathtub" link below for some universal tips. Here is the top-selling and highest reviewed do-it-yourself bathtub refinishing kit.
More information on how to refinish a bathtub can be found at the link on the bottom of the page. So far the Aquafinish kit outperforms all hardware store kits we have tested.
AquaFinish Bathtub and Tile Refinishing Kit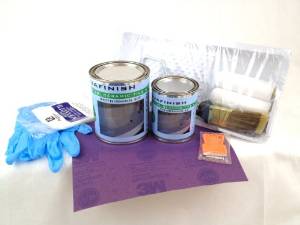 AquaFinish Bathtub and Tile Refinishing Kit

AquaFinish Bathtub and Tile Refinishing Kit – Reviews from Amazon.com
"This stuff is easy to use and you would be amazed out how durable it is, its very glossy and looks just like a regular tub, my tub is around 50 years old and cool style so to make it glossy again it really freshened up my bathtub with out spending $3500 was the estimate. so for $75 I bought this kit, which is a much better coating than the cheaper ones, and has a lot more necessary things that you will need to make it come out better. I think I did good by buying the better kit I don't think the experience would have been as pleasant for me if I had to run around and buy all the things that they put in the kit. And the better coating lays down better, I used the cheap kit on my sisters rent house and its harder to use and frustrating, the roller keep screwing up on me. This is the best cheapest way right here to do it."  Tom
"I was surprised that it came out as good as it did. It was pretty easy too. I got a few small runs around the back curve of the tub but was able to smooth them out. If you have a little patience you can do this. There is a video on YouTube that they have that shows all the steps(cleaning, covering up the drain, rolling on first coat, etc.) The results is a nice looking new tub."  Peter
(In all honesty, we used to include the review for our #2 favorite product. This was the ArmorPoxy Bath Sink and Tile Epoxy Refinishing Kit.  A few folks were choosing it over the AquaFinish kit.
We removed the review because both of the kits are close to the same price and are very close to the each other regarding ease of application and results. After our tests, we just prefer the AquaFinish kit. If you would like more information about the Armorpoxy kit you can read about it here.)
More information about the bathtub refinishing process can be found here:
How To Refinish A Bathtub
More Bathtub Refinishing Articles can be found here:
 Bathtub Refinishing Information